Join us Sundays at 11:00 am and we will help you explore your relationship with God. Joining together in song, prayer and the hearing of the Word, enables the worshipper to draw closer to Christ and increases the desire to become more like Him.

Experience the warmth of faith and strength of our community as we seek to Introduce our neighbors to Christ and serve together in God's Name.
Visit our Welcome Center in the lobby and a member of the hospitality team will greet you and answer any questions you may have about FBCY.  You will receive a bag with information about the church and also includes a gift for you.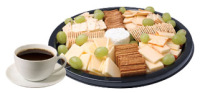 Plan to stay after service for refreshments, includng coffee, tea, hot chocolate and light snacks to tide you over until lunch.


Children K-5
Grades K-5.  This age group attends Kingdom Quest and where they go on a journey to learn what is in the Bible! Children are invited to Kingdom Quest following the offering in the company of their teachers.  Parents pick up their kids after worship. Kingdom Quest is located on the lower level.
Childcare Infants
​Ages 4 and below.  FBCY offers two rooms to care for and minister to our youngest children. Our loving, Christian caregiver, staffs the Nursery and Toddler rooms. Rolanda also explores the Bible with pre-schoolers. Both rooms are located on the 2nd floor on the west side of the building. 
Calender
.
Mother/Baby Rooms
Parents may also use the nursery to meet the needs of their young children including diaper change, nursing, feeding or caregiving during Worship. Located on the second floor on the west side of the building. A nice quiet place for you and your baby and you can still listen to the service while you are there.
You can edit text on your website by double clicking on a text box on your website. Alternatively, when you select a text box a settings menu will appear. Selecting 'Edit Text' from this menu will also allow you to edit the text within this text box. Remember to keep your wording friendly, approachable and easy to understand as if you were talking to your customer
You can edit text on your website by double clicking on a text box on your website. Alternatively, when you select a text box a settings menu will appear. Selecting 'Edit Text' from this menu will also allow you to edit the text within this text box. Remember to keep your wording friendly, approachable and easy to understand as if you were talking to your customer